Triskell® has over 35 years of experience in the specialised area of protective and waterproof coatings.
Based in the North East, at this family owned and run business, we pride ourselves on offering a personalised service, tailor made to suit the needs of each individual customer.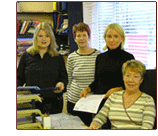 Our client base is wide ranging, from large operations such as the Post Office and HSS Hire, to small units on industrial parks nationwide.
Many of our clients come to us via the network of Chartered Surveyors who manage this type of building.
Although self application is an option, the vast majority choose to use our team of highly trained or our network of approved specialists contractors who operate across the country.